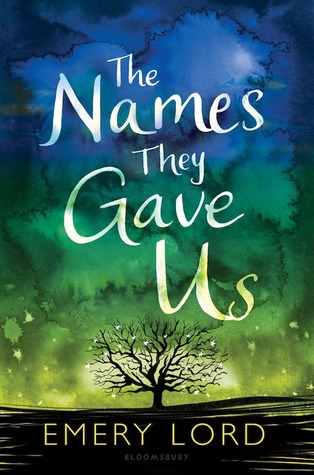 Title: The Names They Gave Us
Author: Emery Lord
Series: N/A
Length: 400 pages
Published by: Bloomsbury Children's
Publication date: May 16, 2017
Diversity: main character has asthma, black love interest, multiple supporting and minor characters of color, trans Jewish supporting character with an anxiety disorder, minor bisexual character
Rating:
★
★
★
★
★
Source: eARC via NetGalley
I knew I'd like this book before I even started it - it's an Emery Lord book, and I love all of her books so much. (Really, if you like contemporaries and you haven't read a book by her, what are you doing? Get on that. Also, follow her on Twitter.) What I definitely wasn't expecting was to get so attached to so many characters and to cry about five times. I LOVED it.
Let's talk about the biggest thing for me right off the bat: I tend to be really apprehensive about books that focus on faith and Christianity; a lot of the time, that's enough to get me to not read a book. I'm Jewish, and I grew up (and still live) in a pretty heavily Christian area. I've spent a lot of time surrounded by a certain type of lingering, preachy Christianity - sometimes people are being intentional, sometimes they aren't, but either way, the majority don't really care how other people might feel about it. It can get pretty uncomfortable (and I know I'm lucky that "uncomfortable" is the most severe word I can really use to describe it). Because of all that, I usually avoid books that discuss faith, because I think they'll feel the same way. But this is Emery Lord, and as I've said, I love everything she's ever written, so I couldn't not read it. As it turns out, I didn't have anything to worry about. Lucy's journey with her faith was absolutely non-preachy, and every part of it was handled so wonderfully.
This is definitely an emotional book. What makes it such a good emotional book, though, is that the sad moments are balanced out by the happy ones so that you feel so much of both. It made me cry, but it also made me laugh, and feel hopeful, and a million other things at the same time.
My favorite part of the book was probably the characters. Each and every major character gets their own time in the spotlight, and that makes you really care about all of them. They're all so complex, and so many of them get their own character development arcs, that I really felt that I was getting to know them throughout the course of the book.
Most of the things that I want to talk about are MAJOR spoilers, so I won't do so here. I'll just leave you with the fact that I literally can't think of anything bad to say about this book, and I highly recommend reading it.
Goodreads summary:
Lucy Hansson was ready for a perfect summer with her boyfriend, working at her childhood Bible camp on the lake. But when her mom's cancer reappears, Lucy falters—in faith, in love, and in her ability to cope. When her boyfriend "pauses" their relationship and her summer job switches to a different camp—one for troubled kids—Lucy isn't sure how much more she can handle. Attempting to accept a new normal, Lucy slowly regains footing among her vibrant, diverse coworkers, Sundays with her mom, and a crush on a fellow counselor. But when long-hidden family secrets emerge, can Lucy set aside her problems and discover what grace really means?